Carpet Cleaning Doncaster facebook page
We have just started a House Cleaning facebook page. Please take time to have a look. We will put pictures and special offers up from time to time along with hints and tips.
This is new to us, so don't expect a flash  facebook page, we will have to learn it as we go along.
When you need a house deep cleaning. And great looking carpets that are fresh smelling and treated with our free odour clear treatment just call:
Carpet Cleaning Doncaster facebook page
We deliver the very best service at doncaster prices. None of this inflated pricing that makes a normal service so expensive.
We use the very best materials and the best British made cleaning machines on the market to do a great job for you at reasonable prices. You can contact us through the new facebook page or for disinfection services click.
We are local, really local. That means we live and work in Doncaster. We are a family firm, a real family firm.
That means that do the work ourselfs so that we can be sure that you are getting the best possible service. It does not mean that we pay advertisers to get the work and then pay employees to do the work.
We are highly trained and we know what we are doing! So when you need the best job doing. Get your end of tenancy property cleaned by Merlin Clean in Doncaster
End of tenancy cleaning services in Doncaster
We have had many years of experience offering end of tenancy cleaning services in Doncaster. We are fully trained in the use of specilised cleaning products to sanitize properties ready for the next tenant.
Our service includes organising the carpets and ovens to be cleaned too. So you have a few jobs less to stress about on moving day.
Our service is available for tenants and landlords alike.
Happy facebooking!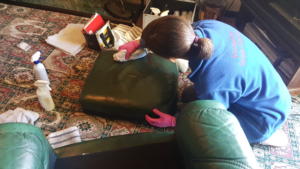 Click here for the Merlin clean Carpet Cleaning Doncaster facebook page
#carpetcleanersdoncaster